by Imprint® on | CumulusPRO, Press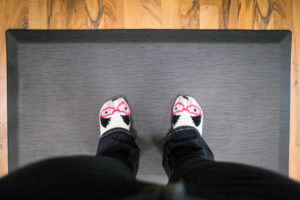 The following is an excerpt from Wirecutter.com's review of the Best Standing Desk Mats:
We tested a dozen anti-fatigue mats in a coworking space flush with standing desks, and the Ergodriven Topo was the most well-liked because it encourages movement and gives bored feet something to do. The Imprint CumulusPro Commercial is still our favorite traditional, flat anti-fatigue mat; we prefer the newish Couture Strata variant because it looks a little nicer than the regular Commercial version, but both feel just as good underfoot.
If you know you stand fairly flat-footed, or if you prefer to have a wider area for standing (or dancing), we recommend the Imprint CumulusPro Commercial Couture Strata mat. The CumulusPro Commercial is our longstanding (heh) pick among traditional flat anti-fatigue mats because of its firm, supportive feel, its eco-friendly single-piece construction, and its generous warranty. We prefer the newer Couture Strata version over the regular Commercial because it's a little nicer looking, but both feel the same under your feet. If you stand with your feet flat on the ground most of the day, you'll likely prefer the depth and feel of the Imprint over the flat portions of the Topo.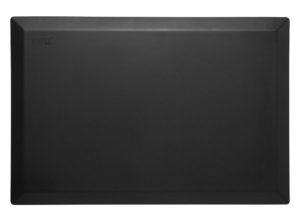 Imprint® Commercial Grade Mat
BUY NOW
How we picked and tested
Building on the hours of research by Wirecutter researchers and editors that went into the previous two versions of this guide, I researched the history of the product category and surveyed the field for the newest mats in the spring of 2016. As before, I narrowed the list to models made from easily washed materials, no thicker than an inch (at their flat portions), and covered with warranties greater than five years; I also confirmed that they didn't cost too much or have bad reviews from too many people.
That left a list of eight new mats, which we tested alongside a few former picks from the prior version of this guide. We also tested a free mat that came with a standing desk and a couple of mats that sell well on Amazon, but those are not worth discussing in the same space as even our least-liked mats. We tested the Ergodriven Topo, the GelPro NewLife Eco-Pro, the Imprint CumulusPro (the Commercial, Commercial Couture Strata, and Professional versions), the SmartCells Anti-Fatigue Mat, the Smart Step Supreme, the StandDesk Anti-Fatigue Mat, and the Varidesk Mat 34.
Over the course of three months, everyone who used one of five standing desks at CoworkBuffalo—a coworking space in Buffalo, New York, that I co-own—used one of these mats. That's at least a dozen pairs of feet on each mat. I rotated mats between desks every week, or immediately if someone disliked the feel of a mat. I stood for at least one day on every mat, took notes, and casually interviewed coworkers about their impressions. Most mats were fine to stand on for up to an hour, but people who regularly work while standing ended up zeroing in on the firmness, size, and style they preferred, and eventually everyone had a pick they liked the best.
Experts' opinions on the benefits of standing to work have changed since the previous version of this guide (and our guide to height-adjustable sit/stand desks). It's still true that sitting for prolonged periods can shorten your life, even if you are active at other times. But the health benefits of "interventions" such as working at a standing desk are still unproven. (That doesn't mean they're disproven, just that there isn't enough evidence yet, from enough good studies or for a long enough period of time.) Most important for anyone who wants to stand while they work: The early hype suggesting that standing all day, or even for hours at a time, would be better than sitting has quieted.
The best advice, from Alan Hedge, professor of ergonomics at Cornell University, is the simplest: "Simply standing is insufficient. Movement is important to get blood circulation through the muscles." Hedge's recommended sit/stand/move cycle suggests that you should alternate between sitting and standing quite a bit, maybe up to 16 times per day.
Because of this recommendation, we considered the ease of moving a mat out from under your desk and back in, something you'd do at least 10 times per workday if you stuck to a 45-minute rotation.
Our long-standing favorite flat mat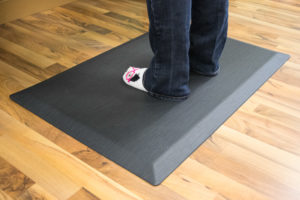 We've accumulated years of combined testing on standing desk mats among writers, editors, and coworkers, and all that work has made it easy to recommend the Imprint CumulusPro Commercial Couture Strata as a traditional flat mat for standing-desk use. Nearly everyone who tried an older version of the Commercial mat in our first round of testing in 2014 liked its feel the best, and so did our 2016 testers, who evaluated the Couture Strata version against the regular Commercial and a half-dozen new models. Like the regular Commercial mat, the Couture Strata comes with a 10-year warranty and doesn't off-gas toxic chemicals.
We prefer the look of the Couture Strata variant—its light texturing, especially in its gray version, makes it look a little nicer than the typical rubbery-black look of most anti-fatigue mats, including the regular Commercial. The standard Commercial Mat is sometimes a little cheaper than the Couture Strata one and sometimes a bit pricier. If you don't care whether the mat has a pretty top surface, get whichever one is cheaper at the time—they feel the same.
That the Couture Strata is not our top pick for standing-desk users is not a matter of its failings; we simply found that more testers used the Topo's raised features, if given the choice. Still, a productive workspace is one that accommodates your most comfortable self, and if you want to stand on a flat surface—and pay about $30 less than for the Topo—the Imprint CumulusPro Commercial Couture Strata is the best flat mat we've found after years of testing. The Commercial has been our favorite for as long as we've had a standing desk mat recommendation.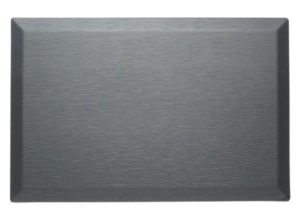 Imprint® Commercial Couture Strata Mat
BUY NOW
The major flaw with Imprint mats is their confusing product-naming scheme. We previously recommended the CumulusPro Commercial Grade Mat, without the "Couture Strata" distinction, but not the squishier and smaller CumulusPro Professional, or the Cumulus9 (which is meant for use as a lighter-duty kitchen mat, despite its popularity on Amazon in standing-desk search results).
To read the full article, visit the Wirecutter.com